Ford Canada ESP Premium Care Warranty
The Premium Care Service Plan is the most comprehensive extended warranty that Ford Canada offers.  It covers over 1000 parts including (and not limited to): engine, transmission, FWD/RWD/AWD transfer cases, steering, brakes, suspension, AC and heating, electrical, high tech systems, emissions, audio, safety and more!
Request a Quote
Grab your VIN number and drop us a line, we'll quote you over the phone or via email!  ...if you're local, feel free to visit us in store!
Ford Canada ESP Premium Care Coverage
Engine - Average savings: $4,000 to $6,000
Your engine is easily the most expensive component in your vehicle. Your Premium Care ESP will cover all major engine components including gaskets, seals, and all internal engine parts.
Engine Components Covered: 
Flywheel Ring Gear
Fuel Tank and Lines
Gas Fuel Injectors and Fuel Lines
Harmonic Balancer and Bolt
Manifold (Exhaust and Intake)
Manifold and Bolts
Oil Pan
Oil Pump
PCM Module
Radiator
Radiator Fan (Clutch or Motor)
Seals and Gaskets
Thermostat
Thermostat Housing
Timing Chain Cover
Timing Chain (Gears or Belt)
Turbocharger/Supercharger Unit (Factory Installed)
Valve Covers
Water Pump
---
Transmission - Average savings: $3,000 to $5,000
Your transmission is probably the second most expensive component in your vehicle and again, the Premium Care ESP will cover every aspect of it, right down to the gasket, seals, and all internal parts. Have a 4x4 or a vehicle with intelligent AWD?  The transfer case and internal components that make your 4x4 or AWD system work is also covered!  Likewise, the components for Rear-Wheel-Drive and Front-Wheel-Drive vehicles are also covered.
Transmission Components Covered: 
All Internal Parts
Governor Assembly
Kickdown Linkage
Release Hubs and Bearings
Seals and Gaskets
Torque Converter
Transfer Case (Including All Internal Parts)
Transmission Case
Transmission Linkage
Transmission Module (External)
Transmission Mounts
Vacuum Module
---
Steering - Average savings: $1,000 to $1,500
Everything from the power steering pump, steering gear and linkages are covered.  Also the entire steering column and advanced steering components.
Steering components covered:
Column Lock (Tilt Wheel)
Control Valve
Cooler and Lines
Idler Arm
Linkages and Couplings
Power Steering Pump
Pulley Assembly
Seals and Gaskets
Steering Gear Housing, Manual and Power (Including all Internal Parts)
---
Brakes - Average savings: $500 to $1,000
With exception to friction components, this plan covers the entire braking system including the anti-lock braking module and sensors.
Brake components covered: 
Anti-lock Brake Module and Sensor
Backing Plates
Brake Booster (Power)
Calipers
Combination Valve
Lines and Fittings
Master Cylinder
Parking Brake Linkage and Cables
Retainers and Clips
Self-Adjusters
Shaft (Brake Pedal)
Springs
Wheel Cylinders
---
Suspension - Average savings: $300 to $600
If you like to two, only Premium Care ESP will protect your rear suspension parts and advanced systems. Coverage also includes ball joints, control arms, and MacPherson struts.
Suspension components covered:
Ball Joints (Upper and Lower)
Control Arms (Upper and Lower)
Control Arm Shafts and Bushings
Kingpins and Bushings
MacPherson Struts
Spindle and Spindle Support Springs
Stabilizer Bar
Tie Rods
Load Leveler Suspension System
Roll Stability Control
---
Air Conditioning and Heating - Average savings: $1,000 to $2,000
The coverage includes compressor, evaporator and the condenser. All heating components are covered which also includes electronic automatic temperature control system.
AC and Heating components covered: 
A/C Accumulator
A/C Clutch
A/C Clutch Bearings
A/C Compressor
A/C Compressor Clutch Switch
A/C Compressor Head
A/C Compressor Seals
A/C Condenser
Automatic Temperature Control
Evaporator
Field Coil
Heater Blower Motor
Heater Control Assembly
Heater Core Assembly
Instrument Panel Registers and Air Ducts
Pulley
---
Electrical - Average savings:  $800 to $1,500
All your major electrical components are covered like the alternator, voltage regulator, starter, fuel pump, and wiring harness. It also includes convenience features like power windows, mirrors, door locks and sunroof.
Electrical components covered: 
Ignition Switch
Intelligent 4WD Systems
LED lighting or Lamp Assemblies-Interior or Exterior(Factory Installed) - coverage included only if the Lighting option is purchased
Mirrors (Electrical Only - Not Glass Damage or Breakage)
Power Running Boards
Radiator Fan Relay
Rear Window Power Sunshade
Speedometer/Odometer (Electrical and Mechanical)
Starter Motor
Starter Motor Solenoid
Switches (Manually Operated Electrical)
Temperature Gauge
Vista Roof
Voltage Regulator
Wiper-Activated Headlamps
Wiper Motors
Wiring Harnesses (Excluding Spark Plug Wires)
---
High Tech - Average savings: $500 to $1,000
Premium Care ESP protects your power seats, windows, locks, instrument panel, compass and thermometer. It also covers other parts like anti-theft system, GPS, rear view camera, keyless entry and some hybrid parts.
High Tech components covered: 
In-Dash Garmin(TM) Voice Activated Navigation System (Factory and Dealer Installed)
Instrument Cluster (Excluding Dash Pad)
Keyless Entry System (Excluding Door Handles)
Power Antenna
Power Door Locks and Retainer Clips (Excluding Door Handles)
Power Seat Motors
Power Window Motors/Regulators
Rain Sensing Wipers
Rear Console Refrigeration
Reverse Camera and/or Sensing System
Roll Stability Control
Securicode
SecuriLock(TM) Passive Anti-Theft Ignition System
Sensor (Alcohol)
SOS Post Crash Alert System
Speed Control
Stationary Elevated Ride Control
SYNC
---
Emissions - Average savings: $700 to $1,000
All of your emission system components are covered including control modules, sensors and actuators (excluding exhaust and catalytic converter).
Emission components covered: 
Air Control Valve
Air Idle Vacuum Valve
Air Supply Valve (Hose and Tube)
Air Check Valve Assembly
Barometric Pressure Sensor
ECC Relay Assembly
EGA Control Valve
EGA Pressure Sensor
EGA Regulator Assembly
EGA Valve Adapter
EVAP Vapor Storage Cannister
Idler Air Control Valve
Knock Sensor
PCV Hose Assembly
PCV Valve
PCV Vapor Filter
Temperature Sensor (Engine Coolant)
Vacuum Restrictor
VAF Sensor
---
Audio System - Average savings: $400 to $600
Your entire entertainment system is covered under Premium Care ESP. That includes the advanced communications systems like SYNC and bluetooth.
Audio System components covered:
Antenna, Radio (Base Assembly)
Brackets
Cables and Wiring
Cellular Phone, Receiver, Handset, Speaker Assembly and Antenna (Factory Installed)
Controls (Rear Seat)
Radio (AM, AM/FM), Speakers, Cassette Player, Digital CD Player, Graphic Equalizer, Premium Sound Amplifier (Factory Installed)
Rear Entertainment System (Factory Installed)
---
Safety - Average savings:  $300 - $500
Premium Care ESP covers your vital safety equipment including your front and side airbags, air module, airbag sensors, collision avoidance system, seat belts and more.
Safety components covered: 
Airbag Module Assembly
Diagnostic Module Assembly (Airbag)
Door Ajar Warning Switch Assembly
Guides, Bezels, Brackets and Supports (Safety Belts/Shoulder Straps)
Head Restraint Retainers and Sleeves (Safety Belt)
Key, SecuriLock(TM) (Microchip Encoded Key)
Lock Cylinder (Door)
Lock Lever Assembly (Tailgate)
Lock Lever Retainers, Clips and Brackets
Module (Passive Restraint)
Safety Belt Buckle (Front and Rear)
Safety Belt Motor Drive Assembly
Safety Belt Restraint Carrier
Safety Belt Retractors
Safety Belt Track Assembly
Safety Belt Warning Chime Assembly
Sensors (Airbag)
Shoulder Strap Track Assembly
Wiring Assembly (Airbag)
---
What isn't covered?
Items Generally Covered by Your Auto Insurance
Examples include: fixed body parts, bumpers, glass, mouldings, ornamentation, paint, rust, sheet metal, framework, side and rear view mirrors, water leaks, wind noise, weather strips, wheels, wheel studs, wheel covers, convertible tops and bow.
Repairs Related to Your Maintenance Requirements
Items listed in your vehicle's owner guide. Examples: batteries, cables, hoses, belts, clamps, consumable brake components, manual transmission clutch, exhaust, spark plugs, squeaks, rattles, tires, wheel balancing, wheel alignment, lamps and lights, shocks, cleaning, scheduled services.
Other Components
Fabric, liners, fasteners, carpets, dash pad, wiper blades, knobs, trim, upholstery, physical damage or cosmetic issues, repairs covered by manufacture recalls, any insurance or if the vehicle is within the time and mileage limits of any warranty, repairs caused by improper unreasonable use, unauthorized alterations, or modifications of the vehicle, and repairs caused by lack of required or recommended maintenance. Costs or expenses for the tear down, rental expense, inspection or diagnosis of failures not covered by ESP.
---
Eligibility for ESP Coverage
There are certain requirements that your vehicle must meet to qualify for a Ford Canada Premium Care ESP warranty.
Premium Care 'New Vehicle' Warranty Requirements
If you're within 3 years and under 60,000 km from the original purchase date of a new Ford or Lincoln, you're eligible for an additional pricing rebate! No vehicle inspection required!
Premium Care 'Used Vehicle' Warranty Requirements
Vehicles beyond 3 years of ownership or beyond 60,000 kms qualify for standard Premium Care packages...at our discounted price!  Your vehicle must be 11 model years old or newer and not exceed 160,000 kms (for 6 month to 1 year extended coverage).  Your vehicle cannot exceed 100,000 kms to qualify for 4 to 5 year extended coverage, or cannot exceed 130,000 kms for 1 to 3 year coverage.  *Note - A passing safety inspection is required, and we're happy to pay for the safety inspection (not any repairs that may be required).
Request a Quote
Grab your VIN number and drop us a line, we'll quote you over the phone or via email!  ...if you're local, feel free to visit us in store!
Ford Canada ESP Premium Care Brochure
See it just below, or click the button to the right to see in high resolution and to download.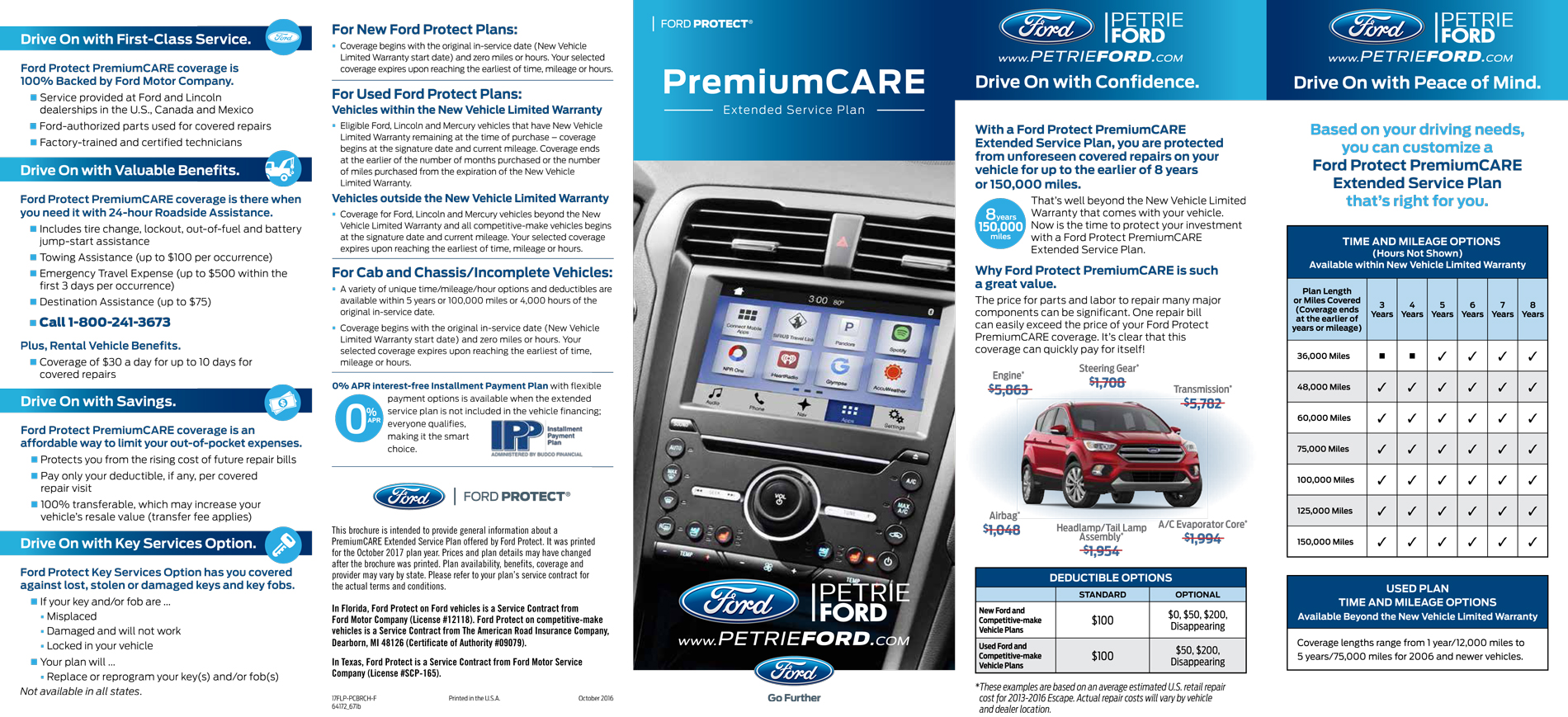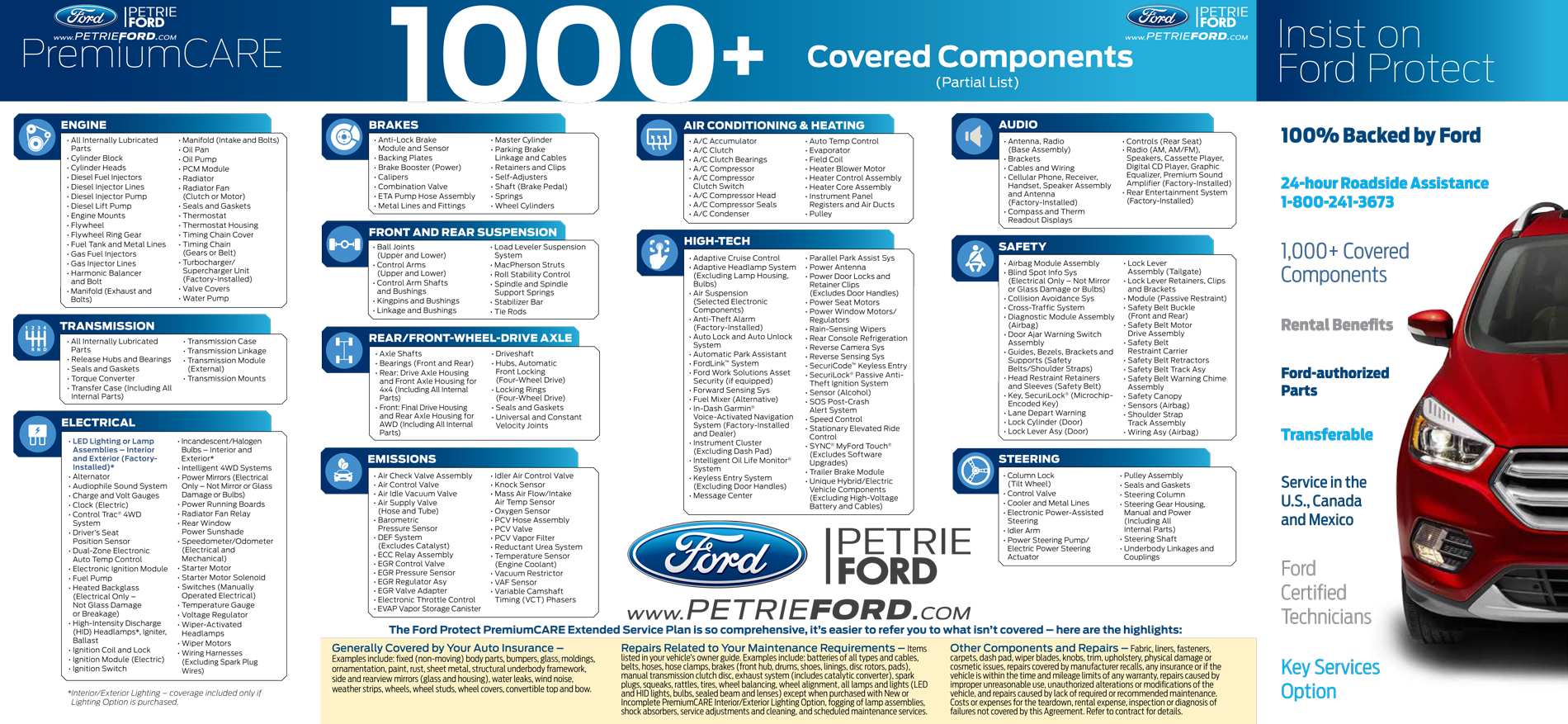 Request a Quote
Grab your VIN number and drop us a line, we'll quote you over the phone or via email!  ...if you're local, feel free to visit us in store!