New or used, so long as your Ford or Lincoln has warranty coverage, you have access to world class auto-club style roadside assistance!  If you're in need of a tow, fuel, keys locked inside your vehicle… even emergency travel reimbursement, our roadside assistance agents are standing by 24/7!
Coverage
The Ford 24/7 roadside assistance program is a separate service from your warranty. However, when you renew or purchase a new warranty contract through a Ford of Canada dealer, the roadside assistance program is offered for the same contractual period of time as the "powertrain" component of the warranty.  Please clarify coverage with your warranty agent at the time of purchase.  If you purchased your Ford/Lincoln brand new, your roadside assistance coverage duration is as follows:
Cars / Light trucks:  5 year / 100,000 km (whichever occurs first)
Light Diesel Trucks: 5 year / 160,000 km (whichever occurs first)
Heavy Trucks (F-650/F-750): 2 years / unlimited km
Roadside assistance starts from the original contract start date (the date that's on your vehicles bill of sale or your "contract start date" on your warranty registration form). Ford of Canada states that this type of coverage is a complimentary service which they can cancel via written notice at any time.  We've never heard of this happening before; we assume its a disclaimer for very particular situations that we've never came across before (and we've been in business for 69 years).
To ensure roadside assistance will come to the rescue, we need to make sure that you're on a municipally claimed and maintained road (no logging roads, or offroad properties for example).  If you're driving on a normal road that the general public uses as a thoroughfare, Ford will come to the rescue!   So what does roadside assistance cover?
Mechanical breakdown: You will be towed to the nearest Ford dealership…or the original selling dealership if they're within 25 kms of the nearest dealership.
Accident tow: When not covered by insurance, you'll be towed to the closest Ford store or the dealer approved body shop within 50 kms.
Fuel Delivery: Delivery up to 10 litres of fuel for stranded vehicles (vehicles that cannot start due to no fuel). Maximum two fuel deliveries in a 12-month period.
Winching: Available within 30 meters of a paved or publicly maintained road, no recoveries.
Flat Tire: Replace a flat tire with a spare, if you have one in your vehicle. If you do not have a spare, you can be towed to the closest Ford dealership or the original selling dealer if within 25 kms.
Lockout service: Unlock a vehicle if you are locked out (key replacement is not included).
Canada and Continental United States!
Going over the border? Don't worry!  Roadside assistance (and your active Ford Warranty) is valid in Canada and the continental United States (the "lower 48 states").
Emergency Travel Expense Reimbursement
If your vehicles happens to mechanically break down or if you're involved in an accident while you're more than 160 kms from your registered address, you can be reimbursed up to $500 for the following reasonable emergency expenses when not already covered by insurance:
Local accommodations.
Vehicle rental from legit car rental agencies (basic rental fee is covered, other expenses such as gas is not).
Commercial return fare transportation to your destination and back to the vehicle repair depot.
(Please refer to Ford Roadside assistance hot-line at 1-800-665-2006 for all terms and conditions and information on the claiming process).
Travel Planner
Similar to an auto-club, Ford offers travel planning services. Give them a ring before you head out and receive a free customized travel planner through regular mail. Give them a call for more information on your travel planner package:  1-800-665-2006.
Get the APP!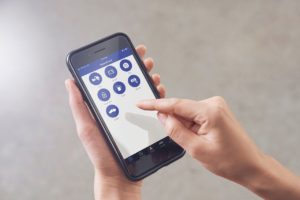 Go to your Android or iOS app store and search for the "SYKES4FORD" app.  Right from your phone indicate what type of assistance you're looking for (tow, boost, tire, lock out, fuel, winch and other), and we'll send someone out!   Get real time ETA, assigned tow truck provider, and status updates.  Contact support personnel and more with the app!
Items Excluded from Coverage
Parts, repairs, rental of towing equipment, storage fees, any labour performed at a service centre.
Any type of impound towing by other than a licensed service station or garage.
Parts involved in a lock-out service.
Assistance from private citizens.
Any business, person or otherwise providing a product or service that are not employees of Ford.